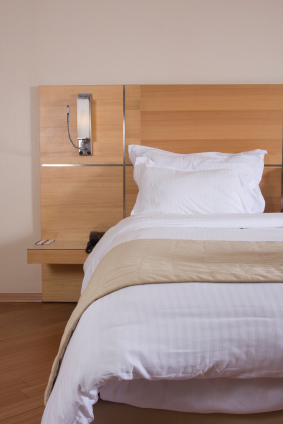 Are you considering a bedroom remodel or renovation?  Before getting too far consider the layout of this important space.  Furniture placement and room design can make or break your bedroom.  Ensure that your peaceful retreat will remain just that with these bedroom layout tips and tricks.
Find A Focal Point: Most spaces have a natural focal point – a fireplace, a picture window, french doors leading into the closet, a nook, or a central wall.  Determine where your room's focal point might be and arrange your furniture around it.  This technique will provide your room with a natural flow and a visually appealing design.
Add Conversation Space: If your room's layout allows for it, create a small seating area.  Whether it is a love seat or a pair of chairs, having a place to sit and unwind at the end of the day can be a great space amenity.  For even greater convenience, move your espresso or coffee machine into your bedroom as well.  With just a quick flip, your coffee can be brewing as soon your feet hit the floor!
Mirror, Mirror, On The Wall: An old designers trick – but one that has stood the test of time for a reason – is to use mirrors to make your room look larger.  Open up your bedroom's floor plan with well placed mirrors.
Simplify: Often we have the tendency to surround ourselves with all of our favorite things.  While we can certainly appreciate the urge to have your comforts nearby, your bedroom may be one room that you consider simplifying. Limit your furnishings, keep your color palette simple, and your patterns minimal.  Doing so will not only make your room easy to tidy, it will also help to convey the relaxed feel that we all crave from our bedroom.
Create Balance: There is something to be said for a sense of symmetry.  Pairs can help your home to find a balance.  If you have a solo piece that you are fond of, seek its mate.  For example, a nightstand  can be paired with a complementary table in a similar size or style for the other side of your bed.  The floor lamp standing above your reading nook?  Pair it with one of similar height on the opposite side of the room.