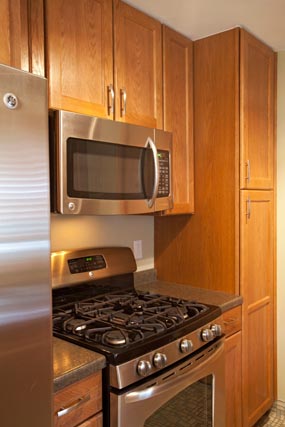 For most families, the kitchen serves as one of the home's most popular gathering spots.  As such, your kitchen has to serve multiple functions – family friendly eating area, upscale entertaining space, and organizational headquarters.  Perhaps that is why kitchens are one of the most popular home renovation projects.  With that in mind, we always keep an eye on upcoming kitchen design trends.  Here are some of our favorite 2012 developments:
Stainless Steel Stays: While appliance finish trends can tend to change with the wind, according to the Association of Home Appliance Manufacturers, stainless steel appliances will remain popular in 2012 and beyond.  However, mixed finishes will also continue to rage – mix finished wood surfaces with painted kitchen islands or stainless steel appliances with polished chrome fixtures for a complimentary yet cohesive look.
Glass Backsplashes: Glass continues to be the most widely used material for kitchen backsplashes, followed closely by natural stone, ceramic, granite, and quartz.  Show your personality with brightly colored tiles or extensive patterns!
Formal Dining Rooms Are On The Decline: Our kitchens are becoming increasingly multi-purpose – so much so, in fact, that most of us are eating in the same room that we are doing our cooking.  Clients are increasingly interested in larger, in-kitchen dining areas as opposed to separate, and more formal, spaces.
Neutrals With Pops Of Color: Homeowners are getting wise to paint color schemes.  Instead of painting their rooms bright and bold and needing to make a change every couple of years, they are now painting their kitchens a more neutral shade and relying on pops of color to brighten a room.  Use uniquely toned appliances, artwork or accessories to liven a space without making a permanent change.  Neutrals have also received a makeover – the "neutral" palette has expanded beyond white and beige to include shades of gray and even pale green.
Unique Hardware: Increased emphasis is being placed on kitchen hardware, with special attention being given to the kitchen sink.  Pull-out faucets are increasingly seen replacing the standard faucet with a detached side spray.  Pull-out models instead, integrate the two functions into a single unit, streamlining the look of your sink.
We'll keep tracking kitchen trends but, in the meantime, if you need some additional inspiration, check out our kitchen gallery today!