The key to a successful remodel project involves starting with an excellent design — this goes for patios and decks as well.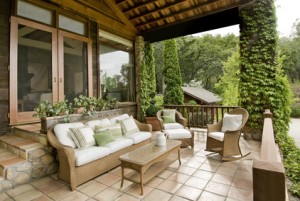 Don't settle for a bland slab of wood or concrete when building an exceptional deck or patio can bring flavor and value to your yard and home. Enjoying Minnesota summers means getting the most out of outdoor dining and entertaining during the few months we have – so why not create a deck or patio area full of ambiance and relaxation!  Here are a few tips with some great ways to make your deck or patio space amazing: Layers –  When we picture a deck or a patio, we often picture one open space, but adding layers to you deck or patio can go a long way in adding interest. Layers can come in many forms – stairs, benches, built-in canopies, or additional levels of your deck or patio.
Creating a side section that drops off might be an interesting design element as well as a great place to keep the grill.
Consider steps that are wider or longer than average to make them unique instead of just practical.
If you'd rather build up rather than down, add a side full of built-in seating or one edge of the deck railing that doubles as a fence for growing vines.
Check out some unique examples of multilevel decks from Better Homes & Gardens here.  Layers, height, and depth can take your deck or patio from average to exciting.
Design Elements – Add some artistic interest through texture, design, and unique materials! Decks don't have to be all one type of wood facing all one direction, and patios certainly don't need to keep to one shade of concrete or brick.
A patio often benefits from a circular design with the feature on artwork in the center.  Patios also lend themselves to beautiful edging designs, or layers of different patio areas done in different materials and color tones.
Decks can utilize creative touches through the railings, angles, and color of the wood used.  Railings don't have to match the wood of your deck – consider cable railings, clear glass, or bent iron for artistic touches.  And don't be afraid to veer from the idea that the wood of your deck has to be the same color and direction.  Peak at the fabulous ideas from Houzz here for mixing up the floorboards of your deck.
Décor — Patio or deck design in place?  Now's the time to add pizazz. Even the simplest of patio or deck layouts can benefit from the right décor, whether you want the mood to be festive, relaxing, or classic.  Pillows, patio umbrellas, plant stands, fountains, and furniture can all be used in creative and colorful (or monochromatic) ways to give your deck or patio the vibe you want.  Click here to see some creative uses of color that can give your outdoor space a dramatic flair, or here to see some with a more sophisticated and relaxed palette. ——————————————–Ready to add or update your Twin Cities deck or patio?  At Homecare Inc Remodeling we provide free estimates, quick service, competitive pricing, and quality work.  Serving Minneapolis, the Twin Cities, and the West and South suburbs including Bloomington, Eden Prairie, Edina, Apple Valley, Eagan, and more!