The new year is in full swing — has your bathroom caught up yet?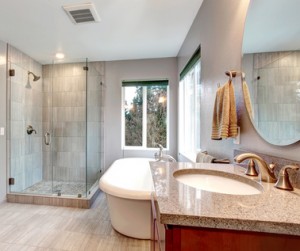 If you know your bathroom needs a refresher, but you're not sure which direction to take it, peek at these top bathroom design and remodel trends for 2014:
Glass Tiles – Glossy and almost effervescent in appearance, glass tiles bring a bright, reflective ambiance to bathrooms, often making them appear more spacious.  More resistant to mold and mildew than ceramic tiles, glass may also be the smart option in addition to being the trendy one.  Find some great ideas for glass tile options on houzz here.
Radiant Heat – In-floor heating is an amazing combo of practicality and comfort.  Though it seems luxurious, it is often more cost-effective than other heating methods.  And you can't beat the feeling of warm feet on a cold MN day!
Unique Lighting – Want to give your bathroom a bit of sophistication?  Using lighting fixtures that you'd generally see in other rooms of the house is a great way to do that.  Chandeliers for instance bring a more glamorous vibe to the room, and pendant lighting can bring a bright and contemporary pop.
Multi-Head Showers – The trend in showers is toward customizing a personal shower experience.  Multiple shower heads means sprayers at multiple levels, with different misting pressures, and lots of warm soothing steam all around!  Peek at some pretty amazing showers here.
Bright & Natural Tones – In keeping with the refreshing, spa-like bathroom that's been trending for the last few years, bright and neutral is still in.  But the emphasis is now on gray tones (paint and tile) with warm and earthy colors serving as accents.  Think pale gray walls and bamboo storage baskets, or crisp white walls with gray accents.
For more bathroom style inspiration, check out some well-designed bathrooms via hgtv here.  You might just fall in love with one!Is your bathroom ready for a 2014 refresher or all out remodel?  Connect with us here at Homecare Inc for quality and affordable bathroom remodeling services.  Serving homes in Bloomington, Eden Prairie, Burnsville, Minneapolis and throughout the Twin Cities MN area.