Spring is on the way — we promise!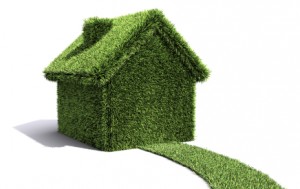 As the snow is melting and the days are getting longer, here are the top 12 home maintenance tips to tackle before summer hits.  Be on guard for potential problems and find ways to save energy now, then keep more money in the bank later!
Clean out gutters and downspouts.  Clogged gutters can lead to water damage, something that is often difficult to detect until you need a major repair.  Pull leaves and corrosion out of the gutters and flush downspouts with water to wash out any clogs.
Inspect window and door seals.  Freezing weather can harden caulk and other weather seals, causing cracking. Repair and re-seal around windows and doors as necessary. Blocking air leaks will help you save on both your air-conditioning and heating bills.  While you're at it, clean and repair your window screens in preparation for keeping the windows open!
Check out the chimney.  Leaks often occur around openings in your roof such as the chimney. Check your chimney for any cracks, loose bricks, or signs of rot.  Check to make sure the cap is still present and hasn't collapsed to cover the chimney flue.
Inspect your roof.  Keep your roof in good shape to keep your home leak-free.  After the harsh winter gives way, check for any loose shingles and keep an eye out for other damage.  For more tips on inspecting your roof, click here.
Give your AC a test run.  Don't wait until the humidity arrives to give it a try.  Turn it on before you really need it to make sure it's running properly.  Check outside to make sure that vegetation isn't crowding your unit and blocking airflow.
Drain your water heater.  Sediment can build up in your water heater tank. Use the spigot near the bottom of the heater to drain it and help prolong its life while reducing your electric bill.
Take a closer look at your washer and dryer.  Check the washing machine fill-hose for any cracks, which could cause major damage if a leak were to spout.  And ensure that lint hasn't found it's way to the outside dryer vent. Clearing your vent could save you money by reducing the time your dryer has to run, and keep the possibility of a home fire at bay.
Vacuum your refrigerator coils.  Dusting under your refrigerator might seem silly, but if the coils on the bottom or back of your refrigerator are coated with dust, they do the job less efficiently, meaning a higher electric bill for you.
Replace batteries in life saving devises.  You never know when you'll need them, so take a peak once a year to ensure that both smoke detectors and carbon monoxide alerts are working properly. 
Replace light bulbs.  Take the time to make sure your light fixtures contain correct wattage bulbs and replace any outdated bulbs with energy-saving ones!
Wash your deck and other outdoor surfaces.  Get out that pressure washer and give your deck, driveway, fence, or other outdoor surface a good washing.  Inspect for any mending and take care of paint touch-ups so that your deck is ready for picnic-season!
Prepare your lawn mower for summer. With picnics in mind, bring it in for its yearly tune-up or take charge yourself.  Sharpen the mower blade, change the engine oil, and make sure you have enough mower gasoline on hand. Taking good care of your mower will lengthen it's life (and make for a well groomed backyard that you'll love to relax in).
Keeping your home and yard in top shape is an important investment — take the time to protect them!Homecare Remodeling Inc is a home remodeler and contractor serving Bloomington, Richfield, Apple Valley, Eden Prairie, Minneapolis, and the Twin Cities MN area for over 50 years!  Need help with your home or yard? Get in touch with us today!