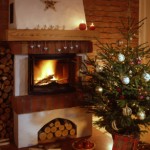 With turkey dinners behind us, our attentions are now turned to preparing our homes for Christmas. Few things are as aesthetically nostalgic as a fireplace at Christmastime.  However, if yours is in need of a little sprucing up in preparation of the holiday season, consider one of these renovation options.
Touch Up With Tile: In many cases, ceramic tile can be laid directly over existing finishes including brick and drywall. Ceramic tile is available in a variety of colors and finishes making it highly adaptable to any room.
Paint: Brick paint can be used to completely revamp your fireplace's façade.  Whether you are trying to lighten and brighten your fireplace or neutralize the appearance of traditional brick, paint provides plenty of unique renovation options.
Add A Mantle: If your fireplace lacks a mantle altogether, adding one can make for an excellent room addition.  Not only can a mantle change the dynamic of your fireplace, it also makes for a perfect place to hang Christmas stockings!
Completely Revamp: If you are looking for a big impact, consider a big undertaking like the complete remodeling of your fireplace's façade.  A room's look and feel can be completely changed through the use of stone, tile, marble or wood.  Slate and stone are particularly popular fireplace surround materials this season.  Not only do both materials come in a wide variety of colors and provide a room with a rustic yet polished appearance, the gradient nature of slate andstone provide plenty of options to pull wall color choices from. However, it is important to note that this is no small undertaking.  Contact a licensed contractor to help you start this project!