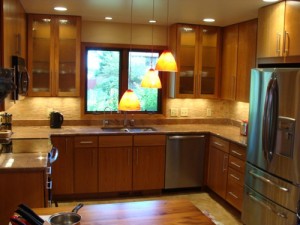 When you're planning a remodeling project, your first thoughts might be on layouts and paint colors.  But deciding which type of lighting you want to use in your home will have a big effect on the overall look and feel of the space!  So is including recessed lighting a good fit for your home remodeling project?  Let's see!Recessed lighting provides a simple, uncluttered look that can be used in almost any room.  Popular in hallways, entryways, or bathrooms, recessed lights are also making their way into kitchens and living areas.  Tucked into the ceiling, rather than installed against it, the fixture is more or less hidden, providing a minimalistic effect.Here are the pros and cons worth considering:Pros
Hidden -With no exposed wires or cords, recessed lights provide a clean, streamlined look that also keeps hazards at bay.
Energy Efficient – Recessed lights use low-voltage bulbs and offer the possibility of a dimmer switch, allowing you to use even less energy when you want.
Increased Light – Since recessed lights are installed in multiples, spread out across the ceiling, this can create a bright, evenly lit room, compared to a single fixture that will likely not provide as much light.
 Cons
Permanence – Once your lights are installed, they can't be rearranged; meaning if you designed them for one room layout and then rearrange the room, they might not provide the light you were hoping for to the new focal points.
Unflattering – Direct light from above can cast shadows that generally isn't flattering on people.  With this in mind, recessed light is not best on its own for situations like applying makeup or shaving.
Quantity – You need a lot of them to do the job well.
Usability – Recessed lighting will not work in ceilings of concrete or with ornate plasterwork or delicate molding details.
Recessed lights offer some great benefits, but may be lacking in areas that are important to you.  Consider a combination of lighting in any give room to give it depth and ambiance.  Combining a hanging chandelier or set of pendants with recessed lights on a dimmer switch might give you the flexibility you're looking for!  Check out some interesting kitchen lighting combo ideas in a photo collection from hgtv here.Homecare Inc. offers custom home remodeling and general contracting services in the Twin Cities area, including Bloomington, Richfield, Eagan, Eden Prairie, and more!  Contact us about your home remodeling project today.