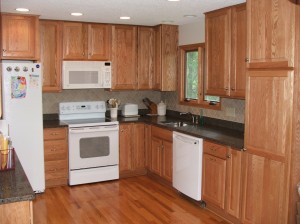 School's out and summer's officially started, but don't let that fool you into thinking life has actually slowed down. As an adult, the daily nine-to-five grind continues no matter what the season. And though you don't have to hustle to get the kids up and out to the bus stop every morning, as a parent you likely have to drive them to and from soccer practice, piano practice, and friend's houses instead.
In the midst of all the hubbub it can be easy to let some spaces in your home fall into disarray. Areas that are used frequently but aren't often seen by guests are the most likely ones to get pretty messy pretty quickly. And what's one of the most frequent victims that falls by the wayside? The pantry. It holds our foods, dishes, pots, pans, special china and everything in between, but more often than not we treat it like a good-for-nothing dumping ground.
But it doesn't have to be that way! Minneapolis/St. Paul Magazine featured a slideshow of fun pantry design ideas to help you reinvent and reinvest in the space. Among the more luxurious suggestions was the installation of a warming drawer to keep your plates, silverware, and breads warm before serving them to family or guests. Also on the list, a vintage looking steel stepping stool to help you reach all those out of the way areas fashionably.
For more ideas check out the slideshow and accompanying article for yourself at Mpls/St. Paul Magazine's online home section.