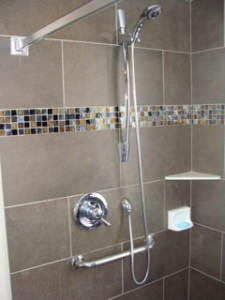 If you or are a family member are physically disabled due to injury, birth defect, or age, you know just how hard it can be to maneuver around a normal bathroom space. The Americans with Disabilities Act (ADA) has made great strides toward cracking down on restaurants and other public spaces whose bathrooms are not up to code. Though there's still a lot of work to be done, a lot of progress has been made already and many physically impaired citizens are finally being able to enjoy a public outing without worrying about the discomfort and embarrassment of trying to navigate a poorly designed bathroom.
On the same note, bathroom accessibility is hitting a lot closer to home a lot more frequently these days. The recession has forced many elderly citizens to move out of their own homes or assisted living resorts and move back in with children or other family members, and many homeowners are realizing that their current bathroom design just doesn't support the independence of someone with special physical needs.
Even if you aren't facing that particular situation, you truly never know when a debilitating injury may occur, and redesigning your bathroom for increased accessibility can actually increase the resale value of your home. Here are a few of the basic guidelines for creating a better ADA standard bathroom:-Doorways must be a minimum of 32 inches wide and swing out instead of in. This will allow wheelchair and walker access and prevent the entryway from being blocked should someone take a fall.-Install wall mounted, L-shaped grab bars around the toilet and the bathtub.-Add a seat inside the shower or tub space.-Make sure all floor areas are non-slip. A decorative throw rug may look nice, but it can be a huge safety hazard for someone with mobility issues.
For a full, detailed list of ADA standard bathroom requirements, visit the ADA website . The language can be a bit technical, so if you're worried about understanding all the requirements on your own, give us a call and we'll make sure every inch of your space is up to code for your loved ones.